Mary Astor
STAR SHOWCASE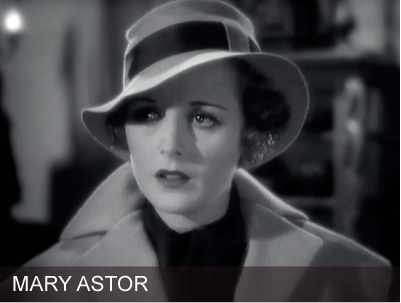 Mary Astor: Biography
Mary Astor, born Lucile Langhanke in Quincy, Illinois in 1906, was an only child. Her father was a high school German teacher.
She was home-schooled and won several beauty contests before becoming a model in New York City.
In 1922, at the age of 16, she appeared in her first credited role in a feature-length silent film for Selznick Pictures. Astor went on to appear in more than 120 feature films through 1964 and received the Academy Award for Actress in a Supporting Role for her performance in The Great Lie (1941).
She struggled with alcoholism for most of her life and was committed to a psychiatric hospital in the late 1940s. After emerging, she converted to Roman Catholicism and began to appear as a television series guest star through the early 1960s.
Astor was married four times:
Kenneth Hawks, film director, 1928-1930. Widowed after her husband perished in a plane crash, she later suffered a nervous breakdown.
Dr. Franklyn Thorpe, surgeon, 1931-1936, one child, divorced. Thorpe was one of her attending physicians after her mental collapse. They later went through a bitter child custody battle.
Manuel del Campo, insurance salesman, 1936-1941, one child, divorced.
Thomas Wheelock, stockbroker, 1945-1955, divorced. During this period, Astor was committed to an alcohol treatment center and attempted suicide several times. She later recounted these events in two best-selling autobiographies.
She died of complications from emphysema in Los Angeles, in 1987, at the age of 81.
Mary Astor-films
NOTED FILMS
---
Top Ten Money Making Stars
MOST POPULAR ACTORS 1912
1912
Maurice Costello

Dolores Cassinelli

Mae Hotely

Francis X. Bushman
MOST POPULAR ACTORS 1922
1922
Mary Pickford

Douglas Fairbanks

Anita Stewart
Thomas Meighan

MOST POPULAR ACTORS 1932
MOST POPULAR ACTORS 1942
MOST POPULAR ACTORS 1952
MOST POPULAR ACTORS 1962
MOST POPULAR ACTORS 1972
MOST POPULAR ACTORS 1982
1982
Burt Reynolds

Clint Eastwood

Sylvester Stallone

Dudley Moore

MOST POPULAR ACTORS 1992
1992
Tom Cruise

Mel Gibson

Kevin Costner
Jack Nicholson

MOST POPULAR ACTORS 2002
2002
Tom Hanks

Tom Cruise

Mike Myers

Reese Witherspoon